Many retailers are turning to content personalization to improve the user experience, strengthen customer loyalty, and optimize success metrics. In this article, you will learn what content personalization is, how it can be integrated into customer communications, and how Douglas and Betti Bossi put this personalization form into practice.
What does content personalization mean in retail?
Content personalization refers to the user-specific adaptation of content at various customer touchpoints on behalf of the retailer. It's all about creating valuable content that is individually relevant to the user in the app, in the newsletter or on the website.

An important factor here is playing out the content in real time because good content should always correspond to the current situation. As a rule, what interested the customer ten months ago is not relevant. For example, if a shopper purchased an outdoor spotlight in the past, he likely won't respond to content with similar offers, but he may be interested in other outdoor décor. A good personalization solution responds to each customer's needs from the first click and learns in real time with each subsequent click.

Content personalization benefits retailers and customers. In fact, customer loyalty is strengthened when content relevant to the customer is promoted. This leads to higher click-through and purchase rates, and ultimately to more sales for the retailer.
How do retailers incorporate content personalization into their customer approach?
Depending on the retailer's intention, personalized content can inform, entertain, advise or inspire. There are no limits to the retailer's creativity when it comes to content.
One example of personalized content in action is topic-specific articles in a DIY store's blog. Based on the interests of the store visitor, relevant posts are shown to inform and advise them. A customer interested in plants and gardening will be shown blog posts that fit this category, e.g., how to build a raised bed and which plants are suitable for such a bed.
Let's explore another example from a fashion retailer that sends out a print magazine to its customers twice a year. In addition to a general section with colorful content on fashion, the retailer can include ten pages of personalized articles. Here, customers read articles on styling topics tailored to them, including product recommendations, based on their click and purchase behavior in the online store.
Content personalization at Douglas: Beauty stories in the online shop
Europe's leading beauty retailer relies on a holistic individual customer approach with many different use cases for personalization.
Recently, customers have also received personalized content recommendations on the home page of the Douglas online store. Here, GK AIR Personalization calculates the appropriate "beauty stories", or articles about care and cosmetics, based on the click and purchase behavior of the online store visitors. The AI solution learns the correlations between product and content interaction in the store and can thus display the most suitable beauty stories for each customer.
Content personalization at Betti Bossi: Relevant recipes in the online store and app
Betti Bossi is part of the Coop group of companies and has been an online portal offering various products and services related to cooking and baking since 2001. To offer a personalized shopping experience to customers in the online store, the company uses GK AIR Personalization. In addition to relevant product recommendations, Betti Bossi customers receive content recommendations in the form of suitable recipes. This is how Betti Bossi succeeds in increasing user experience and sales.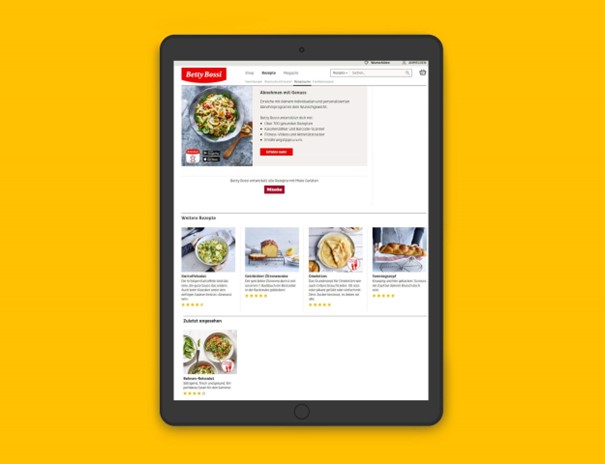 Want to learn more about content personalization? Contact our expert, Mr. Personalization, on LinkedIn or via email at This email address is being protected from spambots. You need JavaScript enabled to view it.