In this series, we sit down with members of the GK Software team to learn more about their experience with the company.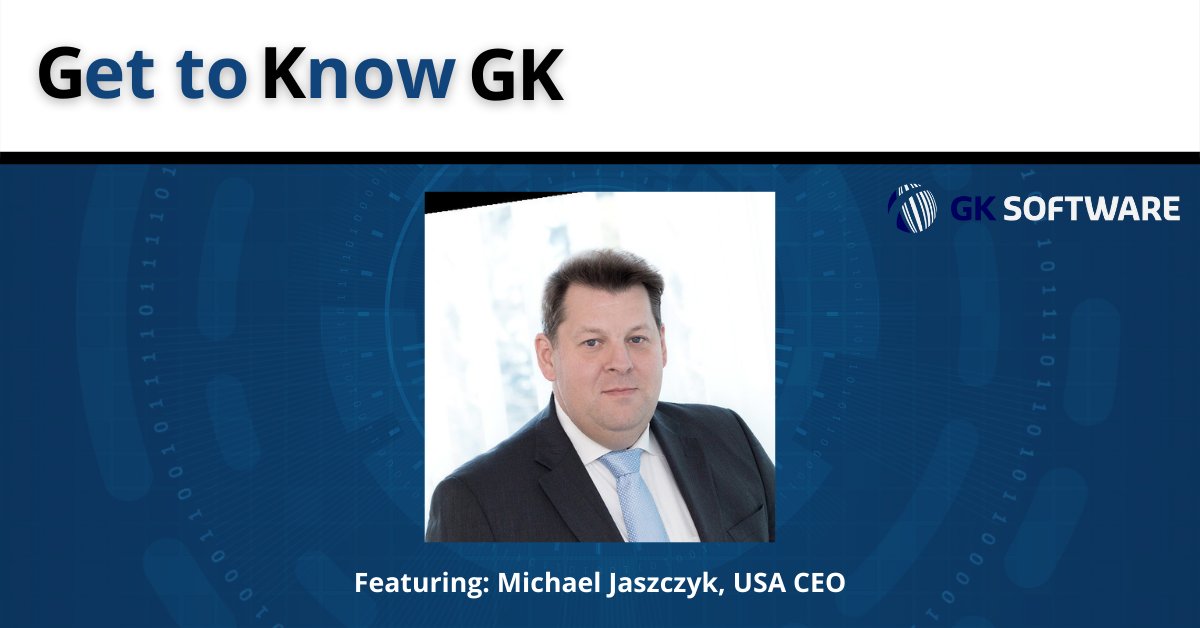 Tell us a little about your career journey. How did you end up at GK Software?
My dad brought home my first computer when I was seven years old, where I started to learn programming. I studied computer science in Texas, and then went back to Germany and worked for a furniture retailer.
During my time there, I developed mainframes, building all the software from scratch – including what was needed for the POS, accounting and HR. I worked in different departments, learning the various tasks within them in order to optimize the software. The detailed, holistic work there provided immeasurable insights into retail processes.
After, I co-founded Pironet NDGH AG, one of the first commercial internet providers in Germany. During this time – around 1995 – we hosted websites, designed networks and connected companies to the internet. After we went public, we had a lot of customers in the retail space. We developed a lot of software and middleware for retailers, connecting store systems to the backend.
From there, I found my way to GK Software, joining as global CTO in 2010 and then becoming CEO of GK Software USA in 2014.
What is your favorite part of working for GK? 
GK Software is not a typical company for its size and age. We have more than 1,000 employees, and the company has been around for more than 30 years. Yet, we still maintain all the positive aspects of a startup.
For example, individuals are encouraged to make decisions without waiting for clearance from higher-ups in order to get things done and achieve true progress. The steps to innovation are shortened here, as part of our success lies in our ability to quickly adapt to market changes.
With a global reach, I particularly enjoy being part of the expansion journey. It's wonderful to travel and learn a lot about different cultures and challenges.
Is there an implementation, tech advancement, or collaboration effort that you're most proud of during your time at GK?
I consider OmniPOS my baby. Developing software is a lot like forming a cloud. At its core, every cloud droplet has a speck of dirt and crystal. You need the right team – the right temperature and altitude – to take a small idea, much like a speck of dirt on its own, and develop the crystal and form the cloud.
At the time when OmniPOS first launched, the industry was still talking about multi- and cross-channel – the term omnichannel wasn't widely used. Our team had the early vision of providing service-based software to every channel. Today, we still work to provide modern technology and architecture in anticipation of the changes in retail – whether online, mobile or in stores.
What do you think makes GK's offerings unique?
We have a unique combination of agility and German engineering – like a Mercedes! We're able to react to the market quickly, but also in a way that's well-engineered. Quality comes first.
In addition, we have one product, for all verticals and geographies. Retail formats are converging – grocers are offering fuel and dine-in restaurants, for example, but many retailers still manage siloed POS solutions for each service. Our CLOUD4RETAIL OmniPOS 5.19 solution provides a single POS platform for every retail format. What's more, any updates we make to our solution is immediately available to all our customers.
Lastly, what do you like to do in your free time?
I enjoy playing guitar, running, boating and golfing.